Unlimited Telemedicine + Prescription Discounts
Because you have more important places to be than the doctor's office.
Like
work.
with the family.
on vacation.
Hooray Health WellCall is a complete, convenient, and affordable solution to getting better on your schedule. 24/7 unlimited telemedicine means that you can speak to a doctor exactly when you need to, for one easy, affordable monthly subscription. And with WellCall's discount prescription finder powered by ScriptSave WellRX, you can quickly and easily find the best prices on prescription medications at pharmacies near you.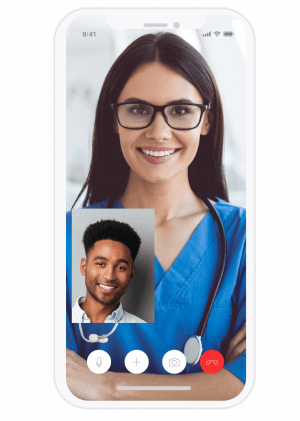 Talk to a board-certified doctor
WellCall quickly connects you with a board-certified physician via phone or video call.
Easily call a care coordinator who will triage your condition and assign you to a doctor.
You'll soon be speaking with a U.S. board-certified physician who can consult your condition and prescribe medication for acute illnesses, sending the prescription to a pharmacy of your choice.
Pick up your discount prescription
If your treatment plan calls for a prescription, you can use WellCall's discount prescription finder to compare prices from thousands of pharmacies nationwide. From there, you can choose the location that's most convenient for you. You'll give this pharmacy information to your prescribing doctor, who can submit it electronically to be filled.
Next comes the hard part: leaving the house.
You'll be able to pick up your prescription at your chosen pharmacy, instantly saving 60-80%* at the register when you show them your WellCall discount card.
Convenience and affordability are our core values.

Easy Access
Access a board-certified physician by phone or video from any location – home, work, or when traveling.
No Waiting
Once triaged, you will be connected with the doctor by phone or video in approximately 15 minutes or less.
Affordability
Save time and money on unnecessary and expensive emergency room or urgent care visits.
Peace of Mind
Get the care you need with the peace of mind knowing that you have a doctor on call 24/7.
Hooray Health's WellCall is perfect for everyone — whether you have a family, always on the go, or have an active lifestyle, 24/7 telemedicine ensures acute illness doesn't keep you down.
WellCall is a great fit if you...
Life and work don't stop when you're sick — use WellCall to get better quickly and get back to more important things in life. 
Use WellCall to treat common illnesses:
WellCall covers your everyday, acute illnesses over the phone with $0 consult fees and unlimited visits.
Save at the pharmacy, wherever you are.
Save instantly at the pharmacy with our discount prescription program powered by ScriptSave WellRX. Use the WellCall discount prescription finder to compare prices at pharmacies in your area. Savings average 60%, and, in some cases, can be 80% or more!*
*Savings vary based upon the medication and the pharmacy you choose to use according to ScriptSave WellRX.
WellCall allowed me the freedom to receive treatment over the phone, on my own time. I was able to speak with a care coordinator who scheduled a call with a doctor in between my work deliveries. WellCall saved me time and money. No longer do I have to take off work to sit around a waiting room.
When my husband got sick on our ski trip, I thought our vacation was over. But, with one call with a WellCall Physician, we were able to treat his cold with prescribed Robitussin Cough + Congestion DM. His prescription was $5.33 when we used our discount card and there's never a fee for the consultation. WellCall saved our money and our vacation!
With my wife at work and two sick children with me at home, I wasn't sure how I was going to get them to the doctor. That's when my wife reminded me about WellCall. In 15 minutes, I was on the phone with a WellCall physician who was able to diagnose my kids over the phone and send their prescriptions to our local pharmacy. My wife was able to pick up the prescriptions on her way home and my kids were feeling better and back to school in no time!
Your search engine is not board-certified.
why does my head hurt?

why is my mucus green?

my eyes are swollen and super red
Self-diagnosis can cause unnecessary anxiety.
Sidestep the internet rabbit hole and talk to a board-certified physician with Hooray Health's WellCall.
Self-care for less than a month of binge-watching.
It is essential to prioritize and be proactive about your health without breaking the bank. Take the next steps to get access to unlimited telemedicine and prescription discounts for less than a month of most TV streaming services. With WellCall, you will save time and money on unpredictable illnesses so that you can focus on the more important things in life at home and work.
Member Only Plan
Covers one person.
Unlimited 24/7 Telemedicine

Unlimited Prescription Discounts
Member + One Plan
Covers you plus a spouse or child.
Unlimited 24/7 Telemedicine

Unlimited Prescription Discounts
Family Plan
Covers your entire family.
Unlimited 24/7 Telemedicine

Unlimited Prescription Discounts
Follow Us on Social Media