Improve
Your Health
Your Life
It's Easy With WellCall360

TM
WellCall360TM provides easy, 24/7 access to Doctors & Counselors via telemedicine for no cost and significant discounts on commonly used products & services such as:
$0 Telemedicine Consults
$0 Behavioral Health Via Telemedicine
Prescription Savings
Discounted Dental & Vision Services
It's all in the palm of your hands.
With the WellCall360TM mobile app you can do the following:
Call a Telemedicine Physician or a Behavioral Health Counselor for a Consult
Find the Lowest Prices for your Prescription Drugs
Search for Discounted Dental and Vision Providers
WELLCALL360

TM

PAYS FOR ITSELF!
MOBILE APP AVAILABLE TO MEMBERS
Search for providers near you
Locate pharmacies with the lowest price for your prescription drugs
Schedule a consult with a physician or counselor
REAL SAVINGS FOR
FAMILIES & INDIVIDUALS!
Example savings for a family of 4
$2,597.72 Potential Savings
Example savings for an individual
$1,018.58 Potential Savings
Plus Vision Savings, $0 Behavioral Health Support, & More!
Individual Only
Monthly Rates
Individual + Spouse
Monthly Rates
Individual + Child(ren)
Monthly Rates
Individual + Family
Monthly Rates
Provided by MyTelemedicine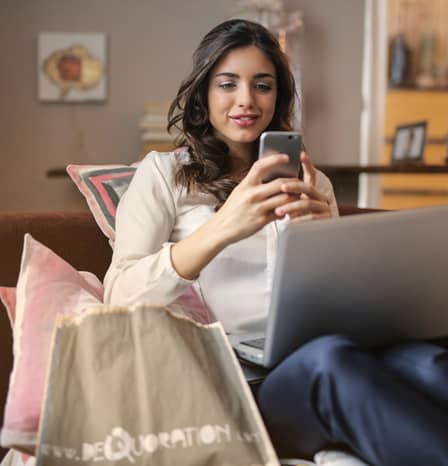 Did you know 70% of doctor visits* can be handled by phone? That's why we built WellCall360

TM

around U.S. board-certified physicians who can diagnose your condition and prescribe medication over the
phone 24/7/365.
Patient calls 1.800.611.5601, accesses our website or mobile app to schedule a consultation with a physician licensed in their state.

Member speaks to a Care Coordinator who will triage and update the patient's Electronic Health Record (EHR) along with all symptoms.

Member consults with physician who recommends a treatment plan. If a prescription is necessary,

it's

sent to the pharmacy of your choice

.

P

hysicians are available 24/7/365 and provide members with convenient, quality medical consultations via telephone, secure video and secure email.
MyTelemedicine does not replace your primary care physician. Our goal is to provide you with convenient, affordable healthcare, when you need it most. 
When you need care now

 

If you need a second opinion on lab results

 

If you have health related questions and just need professional guidance

 

On vacation, on a business trip, or away from home

 

If 

you're

 considering the ER or urgent care center for a non-emergency issue

 

For short-term prescription refills

 
In some cases, a visit to the doctor's office can be avoided, saving time and money. Part of that effort involves the delivery of care for a growing list of common conditions by qualified physicians via video, phone or email. 
Cold & Flu Symptoms

 

Sinus Problems

 

Ear Infection

 

Allergies

 

Urinary Tract Infection

 

Nausea

 

Pink Eye

 

Stomach Viruses

 

Infections

 

Rashes

 

Sore Throat

 

Acne

 

Second Opinions 

 

…and much more

 
*Noted by the American Medical Association
Provided by ScriptSave® WellRx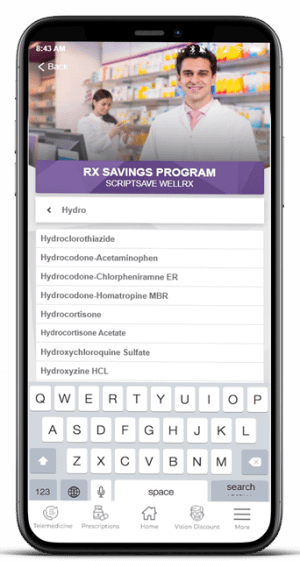 ScriptSave® WellRx Program Provides:
A prescription savings card that offers instant savings at the register on both brand name and generic prescription medication. Use the card to save on prescriptions for you and everyone in your household — including your pets.
No enrollment fee and no limits on usage.
Everyone in your household can use the same card.
A pharmacy discount network of 65,000 participating pharmacies across the county including chain and independent retail pharmacies. The locations include: Albertson's / Safeway, Cardinal Health, Costco Pharmacies, CVS Pharmacy, HEB, Hy-Vee, Kroger, Walgreens Pharmacy, Walmart Pharmacy
Getting prescription discounts is easy!
Access the WellCall360TM  website or download the ScriptSave® WellRx app and click Get Card.
Search for the lowest priced prescription medications near you.
Show your savings card at the pharmacy each time you fill or refill a prescription It's that easy!
There is no paperwork to complete and no limit on usage.
Savings average 60%, and, in some cases, can be 80% or more!* Savings vary based upon the medication and the pharmacy you choose to use
* Average and up to savings percentages are based on all discounted prescriptions that were run through the WellRx program in 2018. Discount percentages represent savings provided off of pharmacies' retail prices for consumers who do not have a discount program and pay cash.
$0 BEHAVIORAL HEALTH CONSULTS
Provided by MyTelemedicine
We Could All Use Support When Life Gets Tough
While experiencing personal or family distress, the assistance of a professional can ensure emotional health.
The Hooray Health WellCall360TM plan serves as the first step in obtaining telephonic counseling.
Support Services Include:
The Right Care at the Right Time
Behavioral health affects people of all financial, occupational, and personal situations. The Behavioral Health resource will:
Save big on discounted dental care through the Careington Dental Plan, one of the country's largest dental networks. Members save an average of 20% to 60% off the standard fees of dental procedures, such as routine exams, adult and child cleanings and root canals.
Save 20% to 60% on most dental procedures
Save up to 20% on orthodonitics
Save up to 20% on specialists' fees where available
Cosmetic dentistry, including bonding & veneers
Visit any participating plan dentist: change at any time
VSP Vision Savings Pass is a discount vision program that offers savings on eye care and eyewear. With the best choices in eyewear, VSP makes it easy to find the perfect frame. Members can choose from great brands like Anne Klein, bebe®, Calvin Klein®, Flexon®, LacosteTM, Nike®, Nine West, and more.6
Access to discounts through a trusted, private practice VSP doctor
One rate of $50 for eye exams7
Save up to 15% on contact lens exams8
Special pricing on complete pairs of glasses and sunglasses
Unlimited use on materials throughout the year
TAKE THE NEXT STEP!  
THESE PROGRAMS ARE NOT INSURANCE AND ARE NOT UNDERWRITTEN BY AN INSURANCE COMPANY.
*Fair Price Dr. Office Visit healthcarebluebook.com based on zip code 75248
** Azithromycin generic of Zithromax wellrx.com based on zip code 75248
*** Sertraline HCL generic of Zoloft wellrx.com based on zip code 75248
1 Regular cost is based on the average of the 80th percentile usual and customary rates as detailed in the 2018 FAIR Health Report in the Los Angeles,
Orlando, Chicago & NYC metropolitan areas.
2 These fees represent the average of the assigned POS fees in the Los Angeles, Orlando, Chicago & NYC metropolitan areas. Prices subject to change.
3 Fair Price healthcarebluebook.com based on zip code 75248
WellCall360TM is not offered by the Employer, but is offered by Hooray Health to everyone regardless of hours worked or who their employer is. Distribution of materials that identify WellCall360 should not be interpreted as employer sponsorship or endorsement of WellCall360.
DENTAL AND VISION PROGRAMS ARE NOT INSURANCE AND ARE NOT UNDERWRITTEN BY AN INSURANCE COMPANY.
4 Retail cost is based on the national average of the 80th percentile usual and customary rates as detailed in the 2018 Fair Health report in the Los Angeles, Orlando, Chicago and New York City metropolitan areas.
5 These fees represent the overage of the assigned Careington Care POS fees in the Los Angeles, Orlando, Chicago, and New York City metropolitan statistical areas. Prices subject to change.
6 Brands subject to change
7 This cost is only available with the purchase of a complete pair of prescription glasses; otherwise you'll receive 20% on eye exam only.
8 Applies only to contract lens exam, not materials. you're responsible for 100% of the contact lens material cost.
THIS PLAN IS NOT INSURANCE and is not intended to replace health insurance. This plan does not meet the minimum creditable coverage requirements under M.G.L. c. 111M and 956 CMR 5.00. This plan is not a Qualified Health Plan under the Affordable Care Act. The range of discounts will vary depending on the type of provider and service. The plan does not pay providers directly. Plan members must pay for all services but will receive a discount from participating providers. The list of participating providers is at www.careington.com/members. A written list of participating providers is available upon request. Discount Plan Organization and administrator: Careington International Corporation,7400 Gaylord Parkway, Frisco, TX 75034; phone 800-441-0380.